Sister Cities Young Professionals (21 – 35 approximately)
Albuquerque Sister Cities Foundation has various partnerships with the University of New Mexico, Central New Mexico, and other universities, as well as various businesses across the metro-plex.
Young Professionals Goal Statement
Albuquerque is a thriving city. The community is filled with international connections and opportunities. Our goal is to share these opportunities with students and young professionals as they start their careers. We are creating a pathway for shared knowledge and connection.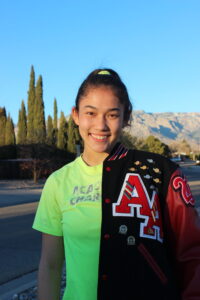 Melinda Modisette
Melinda Modisette, loves the color neon yellow, smiling, and adventures. She the creator of the Cross-Cultural Art Exchange (See below for more details). She founded the ABQ Fight COVID-
19 initiative which provided 8,000+ free masks to the New Mexican community and Navajo Nation. She was the captain of her high school's Varsity Boys Wrestling Team and helped pioneer the first Women's Wrestling State Championship in New Mexico. She is a recipient of 2021 Presidential Scholar, 2021 Coca-Cola Scholar, 2020 Semper Fidelis All-American Female of the Year, 2021 Prudential Spirit of Community State Honoree, and 2021 Congressional Art
Competition Winner for the 1st Congressional District in New Mexico.
Melinda is currently attending Harvard University and planning to major in either Electrical or Mechanical Engineering with a minor in Studio Painting. After Business graduate school, she plans to become an entrepreneur.
Cross-Cultural Art Exchange:
The Cross-Cultural Art Exchange is a project dedicated to connecting students from around the world through making mixed culture art.
In the first half of the project, each student is challenged to illustrate, in half an art piece, the defining characteristics of their home city and what part of their culture they want to depict to a student living abroad. Midway through the project, the art pieces are mailed to the students of the other country, and the last half of the piece is completed by a student of another culture. The finished art pieces show that it is the contrast between us that creates something beautiful. Feel free to check out the art pieces here: 
https://melgal.org/cross-cultural-gallery/
.
"Some believe it is only great power that can hold evil in check, but that is not what I have found. It is the small everyday deeds of ordinary folk that keep the darkness at bay. Small acts of kindness and love"
– Gandalf